Flower Delivery Lafayette California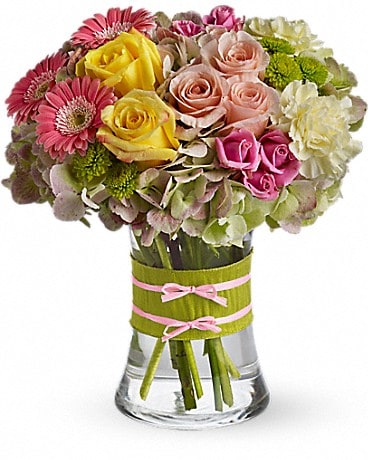 Jory's Flowers delivers flowers to Lafayette, California every day. We also deliver to all Lafayette hospitals, churches and funeral homes.
About Lafayette CA
Lafayette, California, is a small city known for its rolling hills. Located in Contra Costa County, the city has a population of just under 24,000. The city received national attention when, in 2006, residents started placing crosses on a local hill to memorialize the soldiers who died in the Iraqi war. Within a few years, more than 4,000 crosses had been placed on the hill.
City of Lafayette
Lafayette California Wikipedia
Yelp Active Life in Lafayette
Lafayette's History
.The land on which Lafayette was later founded was awarded to Candelario Valencia as a Mexican land grant in 1834. It was later purchased by Elam Brown in 1846, and a settlement was founded. The first post office was built in 1857, and it was then that the settlement was named La Fayette after the French general who fought in the American Revolution. At times, the city's name has been spelled La Fayette, LaFayette and Lafayette, which was the spelling used in 1968 when it was officially incorporated as a city.

Florist in Lafayette CA
Jory's Flowers has been a family owned and operated company for over 75 years. Owner Don Hotton is a third generation florist. His grandfather started in 1935 in Piedmont, Ca. In 1958, Don's father Duane Hotton bought Jory's Flowers in Walnut Creek. Jory's Flowers has expanded so much that when Don took over in 1992, he added a location in Concord on Galaxy Way. From there he went on to purchase Vallejo City Floral Company.
We are proud to offer you the freshest products available. You see, being a wholesaler and a retailer gives us the ability to have fresh products brought in daily to pass the savings on to you, the customer. Our design staff is comprised of some of the most talented and skilled professionals in Northern California. So rest assured that...
Flower Delivery to all Lafayette Area Hospitals:
John Muir Medical Center
1399 Ygnacio Valley Rd Ste 14
Walnut Creek, CA 94598
(925) 939-4220
Cypress Women's Cancer Trtmnt
1455 Montego # 100
Walnut Creek, CA 94598
(925) 627-3440
Flowers Delivered to These Lafayette Churches
Lafayette United Methodist Church
955 Moraga Rd
Lafayette, CA 94549
(925) 284-4765
Church of Jesus Christ of Latter-Day Saints
3518 Mt Diablo Blvd
Lafayette, CA 94549
(925) 443-6540
Refuge Community Church
Location: 3780 Mt. Diablo Blvd
Lafayette, CA 94549
(925) 942-1000
Our Savior's Lutheran Church
1035 Carol Ln
Lafayette, CA 94549
(925) 283-3722
Lafayette Christian Church
584 Glenside Dr
Lafayette, CA 94549
(925) 283-8304
Sympathy & Funeral Flowers Delivered to these Lafayette CA Funeral Homes
Sinai Memorial Chapel
3415 Mt Diablo Blvd
Lafayette, CA 94549
(925) 962-3636
Deer Creek Funeral Service
1619 Foothill Park Cir
Lafayette, CA 94549
(925) 934-9000
Traditional Care Funeral Services
2255 Morello Ave
Pleasant Hill, CA 94523
(925) 849-5823
Moore's Mission Funeral Home
1390 Monument Blvd
Concord, CA 94520
(925) 682-1100
Local Delivery to the following Zip Codes
94579