Flower Delivery Martinez California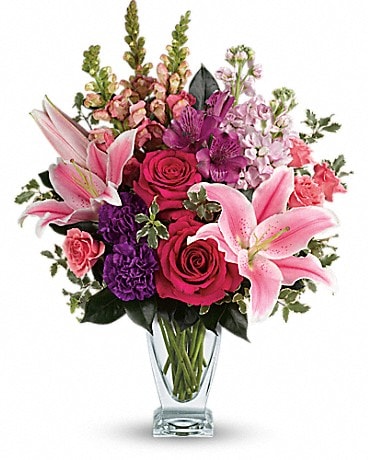 Jory's Flowers delivers flowers to Martinez, California every day. We also deliver to all Martinez hospitals, churches and funeral homes.
About Martinez CA
The county seat of Contra Costa County, Martinez sits on the south side of the Carquinez Strait and is a part of the San Francisco Bay Area. The city is noted for having a number of preserved buildings in its downtown area. In 2007, the city made headlines when a family of beavers built a dam on Alhambra Creek, causing a potential flood hazard. After much debate, a solution was found that both prevented flooding and allowed the beavers to stay.
City of Martinez
Martinez California Wikipedia
Yelp Active Life in Martinez
Martinez's History
.Ygnacio Martinez received the land on which Martinez now sits in a land grant in 1824. The area became the only corssing on the Carquinez Strait for years, but it wasn't until 1849 that the town was officially named. However, due to low population, Martinez did not officially become a city until 1876, despite the fact that it had been the county seat since 1850.
Florist in Martinez CA
Jory's Flowers has been a family owned and operated company for over 75 years. Owner Don Hotton is a third generation florist. His grandfather started in 1935 in Piedmont, Ca. In 1958, Don's father Duane Hotton bought Jory's Flowers in Walnut Creek. Jory's Flowers has expanded so much that when Don took over in 1992, he added a location in Concord on Galaxy Way. From there he went on to purchase Vallejo City Floral Company.
We are proud to offer you the freshest products available. You see, being a wholesaler and a retailer gives us the ability to have fresh products brought in daily to pass the savings on to you, the customer. Our design staff is comprised of some of the most talented and skilled professionals in Northern California. So rest assured that...
Flower Delivery to all Martinez Area Hospitals:
John Muir Medical Center
2540 East St
Concord, CA 94520
(925) 682-8200
Children's Outpatient Clinic
2401 Shadelands Dr # 180
Walnut Creek, CA 94598
(925) 979-4000

Flowers Delivered to These Martinez Churches
Blessed Sacrament Church
1150 Mellus St
Martinez, CA 94553
(925) 228-9852
Second Baptist Church
1020 Las Juntas St
Martinez, CA 94553
(925) 228-3860
First Congregational Church
1229 Court St
Martinez, CA 94553
(925) 228-0549
St Catherine's Catholic Church
1125 Ferry St
Martinez, CA 94553
(925) 228-2230
Sympathy & Funeral Flowers Delivered to these Martinez CA Funeral Homes
Connolly & Taylor
4000 Alhambra Ave
Martinez, CA 94553
(925) 228-4700
Passalacqua Funeral Chapel
901 W 2nd St
Benicia, CA 94510
(707) 745-3130
Altavista Cremation & Funeral Service
4795 Blum Rd
Martinez, CA 94553
(925) 228-1500
Pacheco Cemetery & Crematory
4795 Blum Rd
Martinez, CA 94553
(925) 228-1500
Local Delivery to the following Zip Codes
94553