Flower Delivery Pacheco California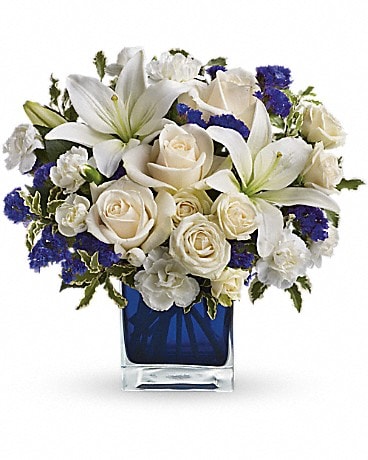 Jory's Flowers delivers flowers to Pacheco, California every day. We also deliver to all Pacheco hospitals, churches and funeral homes.
About Pacheco CA
Pacheco is a small town about five and a half miles north of Walnut Creek. It has a population of around 3,600. Recently in January of 2011, the parts of Pacheco north of State Route 4 were annexed by Martinez, making the town a bit smaller than it was.
City of Pacheco
Pacheco California Wikipedia
Yelp Active Life in Pacheco
Pacheco's History
.In 1857, Dr. J. H. Carothers moved to the area and named it after Salvio Pacheco, the man who received a land grant for the area. The Pacheco post office opened in 1859. Shortly after, the town became a huge commercial center, but after much of Pacheco was destroyed by fires, floods, and an earthquake, many people relocated to nearby Concord.
Florist in Pacheco CA
Jory's Flowers has been a family owned and operated company for over 75 years. Owner Don Hotton is a third generation florist. His grandfather started in 1935 in Piedmont, Ca. In 1958, Don's father Duane Hotton bought Jory's Flowers in Walnut Creek. Jory's Flowers has expanded so much that when Don took over in 1992, he added a location in Concord on Galaxy Way. From there he went on to purchase Vallejo City Floral Company.
We are proud to offer you the freshest products available. You see, being a wholesaler and a retailer gives us the ability to have fresh products brought in daily to pass the savings on to you, the customer. Our design staff is comprised of some of the most talented and skilled professionals in Northern California. So rest assured that...
Flower Delivery to all Pacheco Area Hospitals:
John Muir Medical Center
2540 East St
Concord, CA 94520
(925) 682-8200
Willow Pass Healthcare Center
3318 Willow Pass Rd
Concord, CA 94519
(925) 689-9222
Flowers Delivered to These Pacheco Churches
First Baptist Church-Pacheco
333 Center Ave
Pacheco, CA 94553
(925) 686-5598
Foothill Baptist Church
333 Center Ave
Pacheco, CA 94553
(925) 686-1919
Gospel Light Temple
105 Aspen Dr
Pacheco, CA 94553
(925) 825-2903
Church of Jesus Christ of LDS
300 Golf Club Rd
Pleasant Hill, CA 94523
(925) 687-1262
Church of Christ
1865 Arnold Dr
Martinez, CA 94553
(925) 228-2440
Sympathy & Funeral Flowers Delivered to these Pacheco CA Funeral Homes
Altavista Cremation & Funeral Service
4795 Blum Rd
Martinez, CA 94553
(925) 228-1500
Pacheco Cemetery & Crematory
4795 Blum Rd
Martinez, CA 94553
(925) 228-1500
Traditioncare Funeral Services
2246 Morello Ave
Pleasant Hill, CA 94523
(925) 827-2911
Bryant & Moore Chapel
1385 Galindo St
Concord, CA 94520
(925) 682-1100
Local Delivery to the following Zip Codes
94553