Flower Delivery Walnut Creek California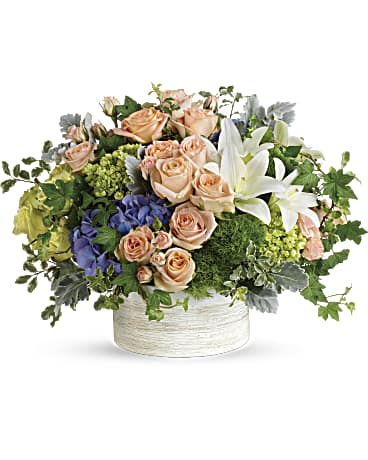 Jory's Flowers delivers flowers to Walnut Creek, California every day. We also deliver to all Walnut Creek hospitals, churches and funeral homes.
About Walnut Creek CA
Located 16 miles east of Oakland, Walnut Creek is a good-sized city with a population of more than 64,000. The city is part of the San Francisco Bay Area and serves as a hub for business and entertainment due to its proximity to several highways and its BART station.
City of Walnut Creek
Walnut Creek California Wikipedia
Yelp Active Life in Walnut Creek
Walnut Creek's History
.Walnut Creek's land was originally owned by Juana Sanchez de Pacheco, who was given a land grant. She passed the land on to her grandsons, who named the area after the main waterway, Walnut Creek. Following the US-Mexico War, American settlers built a town in the area. Originally called The Corners, the town officially changed its name to Walnut Creek in 1855 due in part to the building of the Walnut Creek House hotel.
Florist in Walnut Creek CA
Jory's Flowers has been a family owned and operated company for over 75 years. Owner Don Hotton is a third generation florist. His grandfather started in 1935 in Piedmont, Ca. In 1958, Don's father Duane Hotton bought Jory's Flowers in Walnut Creek. Jory's Flowers has expanded so much that when Don took over in 1992, he added a location in Concord on Galaxy Way. From there he went on to purchase Vallejo City Floral Company.
We are proud to offer you the freshest products available. You see, being a wholesaler and a retailer gives us the ability to have fresh products brought in daily to pass the savings on to you, the customer. Our design staff is comprised of some of the most talented and skilled professionals in Northern California. So rest assured that...
Flower Delivery to all Walnut Creek Area Hospitals:
John Muir Medical Ctr
1399 Ygnacio Valley Rd Ste 14
Walnut Creek, CA 94598
(925) 939-4220
Childrens Hospital
2401 Shadelands Dr
Walnut Creek, CA 94598
(925) 941-6362
Flowers Delivered to These Walnut Creek Churches
Jehovah's Witnesses
2207 Buena Vista Ave
Walnut Creek, CA 94597
(925) 939-9029
Church of Jesus Christ of LDS
2369 Overlook Dr
Walnut Creek, CA 94597
(925) 934-8525
St Mary's Church
2039 Mt Diablo Blvd
Walnut Creek, CA 94596
(925) 891-8900
Contra Costa Gospel Church
2448 Buena Vista Ave
Walnut Creek, CA 94597
(925) 933-0112
Sympathy & Funeral Flowers Delivered to these Walnut Creek CA Funeral Homes
Hull's Walnut Creek Chapel
1139 Saranap Ave
Walnut Creek, CA 94595
(925) 934-5400
Oak Park Hills Chapel
3111 N Main St
Walnut Creek, CA 94597
(925) 934-6500
Deer Creek Funeral Service
1619 Foothill Park Cir
Lafayette, CA 94549
(925) 934-9000
Local Delivery to the following Zip Codes
94595, 94596, 94597, 94598